Establish a Fund
A contribution of $10,000 or more allows the establishment of a component fund for your specific purpose. Funds are generally established as endowment funds, which means the principal of the funds is generally not invaded and the income from the funds is used for distributions on a perpetual basis. Funds may also be established on a non-endowment, non-perpetual basis with approval of the Trustee, JCBank.
The primary issue in establishing a component fund is setting guidelines which clearly describe the donor's purpose and wishes for the Fund's future operation. Such guidelines are generally provided in a "letter of understanding" signed by the donor and an acceptance signed by the Trustee. Topics that should be covered in this document include the following.
The name of the Component Fund. We want to identify the fund based on the donor's wishes.
The identity of the donor. Is the donor's name to be used in connection with the Fund? If the donor wishes to remain anonymous currently, is there a future time where the donor wishes to be recognized?
The source of the gift. Is the gift to be a current gift of cash or other assets, or a future gift through a bequest in the donor's will?
Tenure of the Fund. Is the Fund to be operated as a perpetual endowment fund or is to be used all, or in part, over a specific period of time?
The donor's intent and purpose. Some donors describe a very specific purpose, such as providing scholarships for students seeking a degree in Engineering from Purdue University. Others describe a more general purpose such as scholarships for any higher education, or grants that benefit organizations serving special needs Are specific criteria for eligibility to receive gifts from the Fund to be established?
Who will make decisions for future gifts from the fund? Will the fund be Donor Advised, with the donor providing direction, or will the donor appoint others who will do so? Will that direction be permanent, or will that responsibility fall to the Trustee at some future time?
The Greater Seymour Trust Fund is a private foundation and makes gifts only to other charitable organizations and not to individuals. Donor Advised Funds may not make gifts that provide more than an incidental benefit to the donor, or any person designated by the donor, who has advisory privileges, a family member of those persons, or an entity in which the preceding persons have more than a 35% interest.
Contact the Greater Seymour Trust Fund
For additional information regarding establishing a trust fund with the Greater Seymour Trust Fund please contact: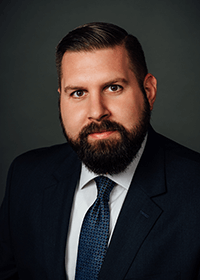 Brandon Hunsley, CTFA
AVP, Wealth Management Officer
JCBank
Phone - 812.524.4411
Email - This email address is being protected from spambots. You need JavaScript enabled to view it.